What we do
Azmoon Kar Co. has commenced it's business in the field of production and marketing of various types of intelligent and also standard, low-energy consuming, electric, gas, and gasoline-powered water heaters, since 1978.
Now, after decades of experience in the industry, Azmoon Kar has succeeded to...
Full Automatic Electric Water-Heater.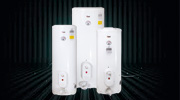 Gas-bum Vertical Water-Heater.
Full Automatic Wall-Mounted Electric Water-Heater.